Wrapped Tezos
Upcoming AMA
StakerDAO and Stove Labs will host a Wrapped Tezos AMA on Wednesday, September 23rd at 10am PT / 7pm CET on Tezos Reddit
Our team is also around the forum: @Jonas @keefertaylor @dexter @maht0rz
Background and Motivations:
StakerDAO is a multi-chain platform for governing financial assets in a decentralized, secure, and compliant manner. Our focus is to build useful DeFi primitives and applications wherever the DeFi ecosystem exists.
StakerDAO launched at the beginning of this year with our contracts and governance process on Tezos. You can find our proposals and votes by the Council here. You can also find interactions with our contracts here. Shortly after we launched StakerDAO, we proposed and received approval for the development of Blend. Blend is a token that tracks a transparent, algorithmically managed basket of Proof of Stake assets. Today, it currently holds Tezos, Cosmos, and Algorand.
StakerDAO is incredibly interested in the potential of the Tezos protocol and believes it's a likely contender to be one of the key Layer 1 protocols that will enable secure and widespread adoption of DeFi. The current state of DeFi on Tezos lacks components that are critical to ecosystem development. However, StakerDAO believes the DeFi ecosystem on the Tezos protocol would greatly benefit from the ability to have a fully liquid XTZ instrument while also continually generating rewards from the underlying tokens being baked.
This instrument will enable XTZ holders to participate in DeFi opportunities (trading, lending, etc) both on the Tezos and Ethereum blockchains while continually generating staking rewards from the underlying locked XTZ. Such an instrument will enable XTZ holders to ensure the greatest yield possible for their XTZ without worrying about long waiting periods to generate returns, or a reduction in network security due to fewer XTZ's staked.
Terminology:
wXTZ: ticker for Wrapped Tezos
wXTZ Chef: a user who deposits / locks XTZ into a smart contract "Oven" to mint wXTZ
Tezos "Oven": smart contract to deposit XTZ and generate wXTZ as well as delegate XTZ to generate additional XTZ and wXTZ
StakerBridge: an open source, trustless method for transferring a token from one network to another
STKR: a liquid, governance token for StakerDAO
Methodology:
Attributes:
wXTZ will be a liquid token to use on Tezos and across other bridged networks. Each wXTZ is fully collateralized by one XTZ. A user will interact with a Tezos Oven contract, to which only they will control the keys. Their locked XTZ continues to accrue staking rewards with the chef's baker of choice.
Benefits:
We believe wXTZ can become a primitive on Tezos so builders will have a liquid instrument to use within DeFi products without reducing the amount of XTZ staked or reducing the security of the network. We also think that wXTZ will allow holders to continue to generate staking rewards from the locked XTZ, but wXTZ can go further by interacting with DeFi projects like Compound that would also generate governance tokens.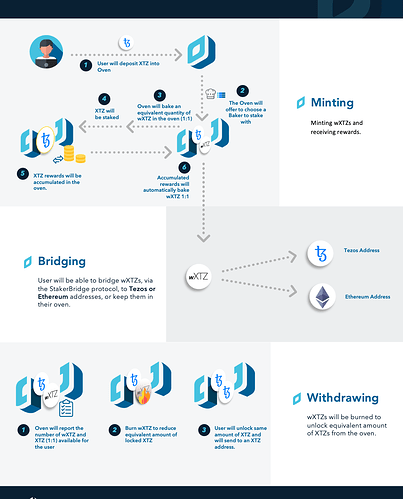 Baker Selection: The Tezos Oven architecture is being designed to support the selection of any baker. Bakers will be able to send rewards directly to the user's Oven address, as they send to delegated wallets today, however bakers may need to adjust their rewards distribution protocol as contract interaction fees may be higher than standard transaction fees, and may be more dynamic in nature. Some bakers may choose to provide different models for Oven-held XTZ vs. their typical services.
Contract interaction will require a connected wallet. We expect to have several wallet launch partners where Oven creation, baker selection, and sending and receiving wXTZ can be performed. Those connected wallets may provide a user interface so that users may select which baker to delegate to. Other wallet providers may provide their own selection of bakers or allow a user to delegate to any baker. We also believe bakers may integrate wXTZ onto their platform so that users can only, although seamlessly, delegate to said baker.
Governance:
The StakerDAO community is responsible for governing the function of wXTZ. Some examples of decisions that could be taken by governance include:
If a fee is to be charged on oven creation, oven withdrawal, or rewards received. At launch, these provisions will be set to zero fee.
If any updates to the wXTZ contract or the oven contract are required. Proposed changes would be approved through governance and then implemented through a multi-sig contract held by the Staker Council and its operations team.
Currently Staker Tokens are used to govern StakerDAO and these tokens are closely held by the project investors and team. A coming governance proposal will seek to decentralize governance so that STKR tokens will become a liquid utility token for governing StakerDAO through proposals. It is our belief that wXTZ chefs will accrue STKR tokens similar to other liquidity mining programs and would therefore have a say in StakerDAO governance. We hope to release additional details within the next 1-2 months.
Business Development:
This is an open call for all interested parties to reach out to partnerships@stakerdao.com if you'd like to consider integrating or collaborating on Wrapped Tezos. We seek Tezos wallets that might add Tezos Oven and wXTZ functionality as well as bakers who would like to be launch partners by offering special configurations for Tezos Oven owners, as well as projects that could take advantage of wXTZ.
Fees:
At launch, Wrapped Tezos will have no StakerDAO implemented taxes or fees related to interaction with the oven and wrapping process. This can change through StakerDAO governance in the future, and it is possible that third-party integrators, such as wallets, may embed a fee or tax for minting wXTZ or baking oven XTZ. Tezos-native transaction fees are to be expected.
Audit:
StakerDAO has contracted with Trail of Bits to provide a comprehensive audit of the Wrapped Tezos project. Associated code will also be open source.
Team:
StakerDAO is managed by its Council and Operations Team.
The Council is responsible for proposal approvals and is composed of Olaf Carlson-Wee (Polychain Capital), Luke Youngblood (Harbinger and Coinbase Custody), Shaishav Todi (Lemniscap), Spencer Noon (DTC Cap), and Jonas Lamis (StakerDAO and Tezos Capital).

The Operations Team is responsible for execution related to product, legal, marketing, and business development: Christian Arita, Pat Ellisen, Mor Glotter, Jason Lee, Graham Tonkin, and Keefer Taylor. Detailed bios available at stakerdao.com.
Engineering
Stove Labs is responsible for engineering with regards to wXTZ and is led by Matej Sima and Istvan Deak.

Serokell was responsible for the development of StakerDAO and Blend and is most recently focused on building StakerBridge, a trustless bridge for StakerDAO products between Tezos and Ethereum.
Contact:
We look forward to conversing with the community and further developing the Tezos ecosystem. Discussions about new products happen across our social media channels, but the majority occur through our Forum and Telegram. If you'd like to discuss partnerships, please reach out to partnerships@stakerdao.com.
FAQ:
What is the risk of interacting with wXTZ?
The risks associated with wXTZ is centered around the smart contracts built by our team related to minting, bridging, and redeeming. The risk around XTZ delegated to a baker is the same risk existing XTZ holders face.
The Stove Labs team who is serving as the prime developer of wXTZ has a strong history of working on Tezos and with the Tezos Foundation. A comprehensive audit of the Wrapped Tezos project is planned with Trail of Bits.
How is wXTZ pegged 1:1 to with XTZ?
Each wXTZ is fully collateralized by one XTZ token. However, if the price of wXTZ were to deviate from the price of XTZ, arbitrage opportunities would exist to mint or redeem wXTZ depending on whether it was trading at a premium or discount.
Can I do this from my current wallet or a Ledger?
We are reaching out to several wallet providers to provide this functionality natively. If you would like to collaborate with StakerDAO on providing this for your users, please reach out to partnerships@stakerdao.com
What language is this written in and what type of contract is it?
The Wrapped Tezos contracts are written in LIGO using the FA2 contract framework.
What is the potential impact to Baker rewards payout processes?
The Oven delegation process will require bakers to issue rewards payments to the Chef's Oven which is tied to a KT1 address, rather than the now-standard tz1 format. Many bakers use off-the-shelf payments management tools such as TRD, TzPay, and Backerei. These tools tend to feature a default fee that we suspect will not be sufficient for sending rewards to an Oven, and may also require a more dynamic method of calculating fees for Oven payments, and perhaps even batching payments to an oven over several cycles depending on the Baker's desired methodology.
Further, these changes in baker behavior may also necessitate changes in our ratings sites score baker performance. The wXTZ team will be supporting this discussion with analysis as our contracts move to test net, and will share potential solutions prior to launch.
How does StakerDAO make money?
At launch, StakerDAO will not implement any fees or taxes associated with the launch of wXTZ.
In the future, the community of STKR token holders may attempt to implement a fee via the Staker governance process. They may propose to implement fees or taxes related to the staking rewards, the amount of XTZ in ovens, the amount of XTZ being redeemed, or by inflating the supply of wXTZ or via other mechanisms.
When will the project be live?
We believe we will be live in December 2020.
If I am a baker or other community member and want to support wXTZ, who can I reach out to?
If you would like to collaborate with StakerDAO on providing this service to your users, please reach out to partnerships@stakerdao.com .