Purpose
Create the biggest web3 social content platform. Basically Reddit where every post is a NFT and can be sold/collected/advertised. Advertisers can create their own content and bribe them with Tezos tokens for sponsored posts. Content Creators earn a share of all fees/bribes generated (Post2Earn).
Value proposition
Existing web model leader Reddit has 430m monthly active users. In contrast at our platform every article/content is automatically a NFT minted. With the success of the platform there would be a enourmous amount of contract calls generated (NFT minted/collected, Ad-Bribes added/collected).
Additionally a lot of shared links will be leading to a Tezos backed project that makes it easy to onboard new users to Tezos. With using Social-Login (Kukai) this process is also easy & smooth, even for non-crypto users. We aim to support a gas-free content creation option by storing data in a Message offchain & minting the NFT once the first collector mints (Or incentivize with our token). Meaning users have the option to post content that will become a NFT without having a Tezos Wallet (Kukai) or Browserextension and without first needing to buy Tez for gas.
About Us
I'm known as Relaixo at Tezos and our team is located in Europe & has over 2 years experience on Tezos & created two own projects on Tezos:
Requested Funds & Use of Funds
We request 10.000 Tez. The funds will get used mainly for developement, infrastructure & marketing.
This is not the full amount that this project would need. But it would be the kickstart our team needs to build a fully functional Version1 with revenue sharing mechanism that is already self sufficient & generating fees from which on we can build V2 with a lot more features we have in mind.
Currently we are in the early stages of development and we aim to release the V1 in Q1-2024. This is our current front-end draft: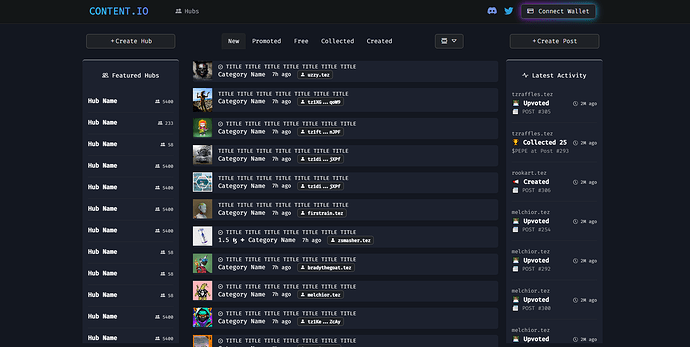 Funding Wallet & Socials
Wallet will get added later. You can contact me on Twitter @relaixo
Happy to answer your questions.