Quarterly Update Q1/2023
We are excited to share our quarterly update on Tezos Domains. Our team has been working hard towards improving Tezos Domains for the community.
Let's explore the progress made over the last quarter and what's in store for the future of Tezos domains.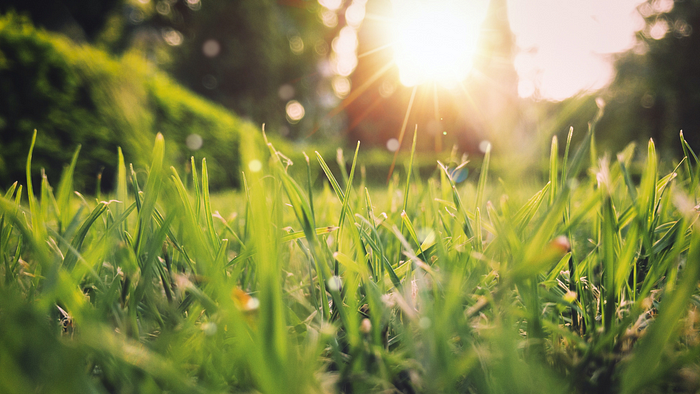 New features
We have added new features to help you manage your domain portfolio with ease:
We have added bulk registrations, allowing you to add multiple domains to your portfolio simultaneously.
You can now bulk cancel secondary market offers and withdraw buy offers to save you time and effort when managing multiple listings.
Ability to sort listings by price, which will make it simpler to find domains within your budget. You can now access this feature on all listing pages via a dropdown menu.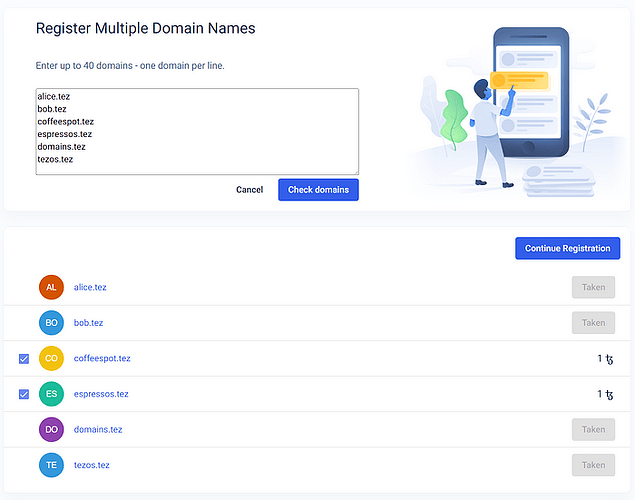 Bulk registrations
News on the DAO front
Firstly, we are announcing a new token name — TED (short for TEzos Domains). This name was decided through a recent Twitter poll https://twitter.com/tezosdomains/status/1636030699969957889.
Thanks to everyone who participated in the poll!
We are preparing a governance pool that incentivizes long-term participation in decision-making by allowing users to stake their TED tokens and receive rewards while also acquiring voting power. Stakeholders will be able to use their votes to influence proposals and decisions that affect the DAO's operations, such as funding allocations or changes to the DAO's smart contract.
A third-party auditor is working on smart contract audits to ensure the safety and reliability of the TED token and the governance pool. The audits are underway, and more news is set to be announced soon.
We are also planning to launch a forum to discuss governance, new features, and proposals.
New partnerships
Mailchain
We are supporting Mailchain.com with their Tezos and Tezos Domains integration. Mailchain is a messaging service built for Web3. It will allow all Tezos users to send messages directly between wallets.
In the future, we are planning on using Mailchain for notifying domain owners about upcoming domain expiration, new listings, and other important events.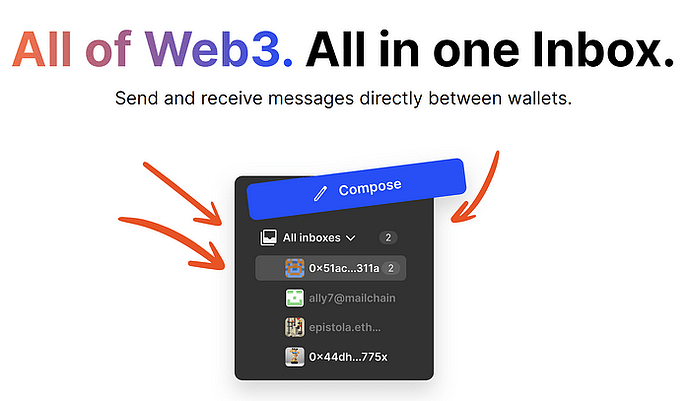 Launchpad
We are currently in talks with a launchpad partner to offer a small portion (5%) of the TED tokens in a pre-sale. This is an excellent opportunity to improve the treasury further and expand the user base of Tezos Domains.
We are excited about the potential of this partnership and the positive impact it could have on the Tezos ecosystem. With this boost to our treasury funds, we can continue to support and develop Tezos Domains pending community approval when governance is available.
Airdrop
In the last update, we wanted to launch the DAO and airdrop in the early months of 2023. Tezos Foundation introduced us to a prospective launchpad partner in March, so we have decided to postpone the airdrop so that we can launch everything (airdrop, launchpad sale, and the CEX listing) closer together.
Thanks
We want to thank Tezos Foundation for continuously supporting and making the project possible.
About the team
The team at Agile Ventures has been working with Tezos since the early alphanet days. We have worked on numerous open-sourced projects focused on helping developers interact with the Tezos data.