Tezos Domains Update — March 2022
In our first update this year, we will look at the new features and Tezos Domains plans for 2022. We will also share a couple of interesting Tezos Domains statistics.
Tezos Domains in Numbers
Tezos Domains started 2022 with a bang! Record-breaking 22,189 domains were registered during January. Over 82 000 domains have been registered in total since the mainnet launch.
The following chart shows the growth in total domains registered from May 2021 until February 2022.
So far, the highest bid in auctions so far has been 3,500 XTZ for the nft.tez domain within 2688 completed auctions.
The following picture shows where the most Tezos Domains users are coming from.
We are adding additional languages based on the user demand and demographics. We have added three additional languages during Q1 to the Tezos Domains application — Turkish, Korean and Indonesian.
Tezos Domains application is now being actively used in 12 different languages worldwide!
New Features
The community drives new features and ideas. We would like to thank everyone for the feedback so far! If you haven't, please join the Tezos Domains Discord and share your ideas with us!
Bulk renewals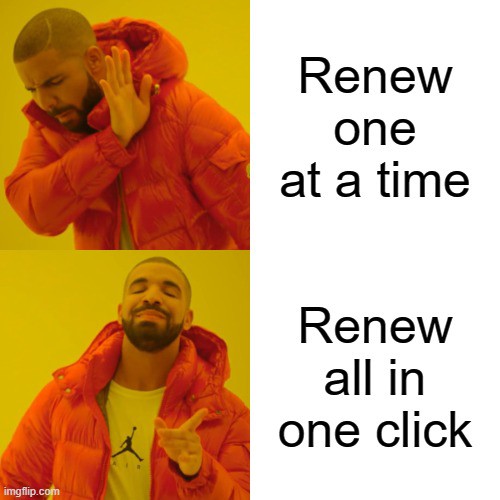 Renewing multiple domains in bulk is now possible! Be sure to try it out!
You can go to the renewal page from your dashboard or by using the
"See more…" link underneath the list of your domains and using the Expiring tab.
You can then select which domains you want to renew.
You can enable notifications through the bell icon in the upper right corner of the application to get alerted when any of your domains are about to expire.
Note for users who listed their domains using the older objkt.com (before the 10th of February 2022) custodial marketplace contract: since the listing changed the domain owner you will no longer receive the expiration notification even if you are subscribed. Version 2.0 of objkt.com contracts are non-custodial — see objkt's release notes.
Permissions management
We have added permissions management where you can see which addresses have the right to make changes or transfer your domain. You can also add additional addresses or remove them. Permissions management is accessible from the domain detail page.
Enhanced activity page and secondary market listings
We have released an improved activity and secondary market listing pages. You can now use additional filters and sorting.
Ithaca supported!
We have added Ithaca support, and we are looking forward to the activation of the Ithaca protocol at the end of March! This one is packed with new features like deterministic finality coming from the new consensus protocol.
You can learn more about the upgrade in the post from the Nomadic Labs here.
Tezos Domains 2022 Roadmap
Can you guess the most common question across all Tezos Domains' social channels lately?
When airdrop?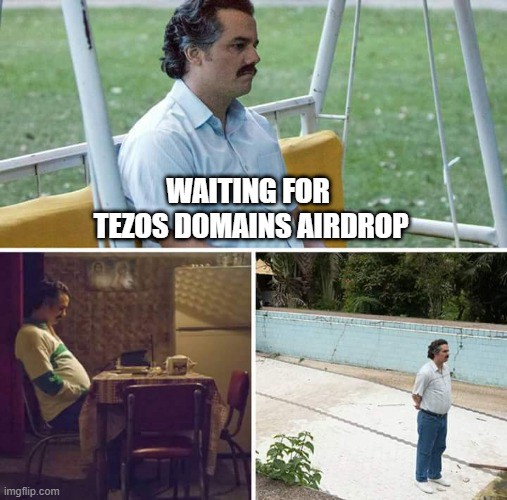 TLDR:
Tezos Domains DAO is coming in 2022!
No, we do not have a fixed date yet.
Tezos Domains DAO
Jokes aside, DAO is the primary initiative for the team planned for 2022. We still have a lot of work to create a fair and distributed governance mechanism for Tezos Domains.
Once Tezos Domains DAO is created one of the first things we plan to do is transfer the funds from the current treasury held on the Tezos Domains TLDRegistrar contract to the DAO-owned treasury.
The primary goal of the treasury is to ensure the long-term sustainability of Tezos Domains.
DNS ➔ Tezos Domains
We are actively working on a feature that will allow legacy DNS domain owners to claim their domain (for example, tezos.com) on Tezos Domains and use it throughout the entire Tezos ecosystem as a regular Tezos Domains.
Additional features and improvements
We have a bunch of other more minor improvements and new features in the backlog. This includes
Various secondary market improvements
Black theme
Website translations to be in-line with the application
And many others.
Join the conversation
As always, we want to invite everyone to join the discussion. Do you have a question about Tezos Domains or any feedback? Let us know!
We have a Tezos Domains Discord for the Tezos Domains community.
Come join us and say hi!
Thanks
We want to thank Tezos Foundation for continuously supporting the project and making it possible.
About the team
The team at Agile Ventures has been working with Tezos since the early alphanet days. We have worked on numerous open-sourced projects focused on helping developers interact with the Tezos data. Currently, along with Tezos Domains, we are also working on an indexing framework for Tezos called Dappetizer and GraphQL API TezGraph.com in cooperation with ECAD Labs.