The The Science of Blockchain Conference 2023 is happening at Arrillaga Alumni Center, Stanford University in Aug 28 - 30, 2023. Link
I think it would be very beneficial to see some "made by"Tezos technical innovations there!
There is a call for papers: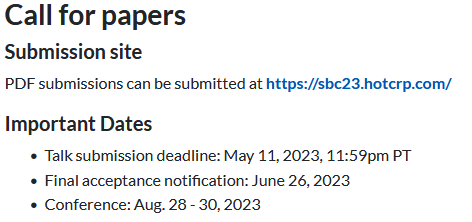 It is a great chance to present the innovative scaling solution of Rollups there, there is the dedicated topic of interest: (tagging @d4hines & @NomadicLabs )


Also another one would be flashbake that could be a fit in the topic of interest for MEV (tagging @nicolasochem ):


I also know that Tezos is strong on the formal verification topic so thats here too:


The conference focuses on technical innovations in the blockchain ecosystem, and brings together researchers and practioners working in the space. We are interested in the application of cryptography, decentralized protocols, formal methods, and empirical analysis, to improving the security and scalability of blockchain deployments. We aim to foster collaboration among practitioners and researchers working on blockchain protocol development, cryptography, distributed systems, secure computing, crypto-economics, and economic risk analysis.
Would be great to get some Tezos representation there